This book hop is hosted by
I Am A Reader, Not A Writer
.
Paranormal is a pretty fantastical genre. As far as I know, I've never passed a Vampire on the street, kissed a Faerie boy, seen a Dragon fly, or witnessed a werewolf transform in the light of a full moon. It takes a Dreamer to come up with some of these slightly strange plots. That's why I'm giving three of them away to one lucky follower!
Don't you want to win these?
Paranormalcy by Kristen White
I Shall Wear Midnight by Terry Pratchett
The Vampire Diaries: Stefan's Diaries Vol. 1 Origins by L.J. Smith
What do you have to do to win? Well, that's simple.
One, you must be a follower of this blog to enter, so scroll down a bit and click the lovely 'Follow' button on the right! I don't mind if you are a new follower, or an old follower, but follow this blog, you must!
Two, you must be a resident of the USA. I would love to make this international, and one of these days I will do an international contest when I don't already have the books and can order them and have them sent to you. Sorry!
Three, leave a comment telling me one book you think I should read this year and your e-mail address. If you don't leave me a way to contact you, you won't win.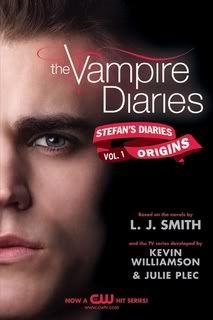 May the odds be ever in your favor!