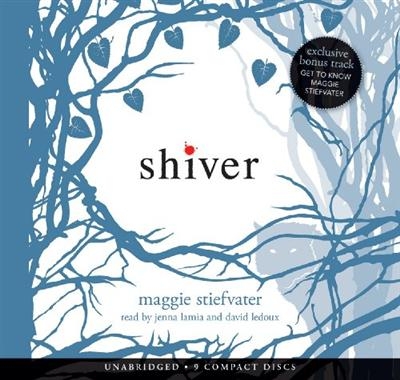 Shiver
Author: Maggie Stiefvater
Publisher: Scholastic Books
Pages: (Audio Book)
Read Time: I could have read it in less time than the voice over actors.
Tag Words: Audio Book Month, Wolves of Mercy Falls, Writing that inspires me, Werewolves, scientific approach to paranormal, love story
My Summary:
Grace has been infatuated with the wolf in the woods behind her house since he saved her from death, can she restore him to humanity, and give him a new life?
My Review:
I'm on this new kick, apparently, where I'm getting to read books that change my views on writing. Basically, Maggie Stiefvater makes me want to be a better writer.
I could read a Stiefvater book on how to watch oil paint slowly dry over time and be more than thrilled. Her writing sets a new standard for me, as many writers have been doing recently; they are all improving my own work without even knowing it.
I listened to this audio book as part of National Audio Book Month, June, for all of you who don't know I pre-write because I read like this mouse:
How did I feel after listening for over forty hours to two very well-meaning, talented, but ultimately in-my-way voice over actors illustrate Stiefvater's prose? Like I could have done it better.
I don't think that Sam and Grace were portrayed "wrong," even if it sounded like they were both talking through tears (and not in a good way) the entire forty plus hours, but I prefer the voices in my own head to those projected onto characters by just one person. Especially if that person isn't me.
So there you have it, my instincts were right, I should have obeyed them and read the Shiver series earlier, but not on Audio.
Notes on the Names:
Sam and Grace, such a melodious couple! They're soft, but sturdy and they make serious music together.
Thoughts on the Cover:
These covers give me goosebumps.
Parental Book Review *spoilers*
Provided by Reading Teen, thanks Amy!
Sexual Content:
-Heavy
Language:
-Moderate
Violence:
-Mild
Other Notables:
-Grace hides Sam in her rooms during the entire summer, her parents are complete idiots.
-When her mom finally meets Sam, she flirts with him.
-Sam's parents would slice his wrist and put him in hot bath water when he was younger, hoping that losing all that blood would keep him from changing into a werewolf.