Forgotten
Author: Cat Patrick
Publisher: Little, Brown Books
Pages: 288
Read Time: 1 Days
Tag Words: 2011 debut author, memory loss, love story, best friends
My Summary:
Every night London Lane goes to sleep and her mind erases itself.
Everything she's ever known, or done, is taken away, to be replaced with memories of the future.
When a boy who belongs to neither her past, nor her future arrives in her present London must decide, should she remember him, or should he be Forgotten?
My Review:
I woke up this morning, remembering that I needed to start a new book. So I did, I chose Forgotten by Cat Patrick because I've had the ARC, and the finished copy sitting around for a while, I've been interested in the story since
Good Golly Miss Holly
posted her review, and Forgotten was on the Parental Book Review request list.
So I picked it up, started reading, and am writing the review less than ten hours later, just so I don't Forget a single thought, or emotion.
Basically it all boils down to one word. Love! I love the writing style, the names, the interesting concept, the intriguing twists and turns of the plot, and the boy. Sigh, I love the boy.
When I was updating my status on Goodreads I wrote, "If it were possible to fall in love and marry a book, this would be the one, since that's not possible I'll settle for Luke." Luke is my literary crush of the year. I cannot imagine him being replaced. He is so lovely, so loving, so handsome, so gentle, so sweet, so funny in those when-you-least-expect-it moments. J'adore Luc!
Not to say that London is not also just as credible as a character; Cat Patrick filled her with all different kinds of flavors. Patrick truly infused her debut with an irrefutable soul. I enjoyed it all and you can be sure Patrick's next book will shoot to the top of my must-read pile, no matter what it is!
Notes on the Names:
Luke and London have a conversation about if they were reincarnated lovers, what would their names have been, as well as their children's names, the scene goes like this-
"I think my name was Heloise. Or Elizabeth. No, I've got it. I was Caroline."
Luke waits a bit, and then joins the game. "That's a good one," he responds earnestly. "And I was Benjamin."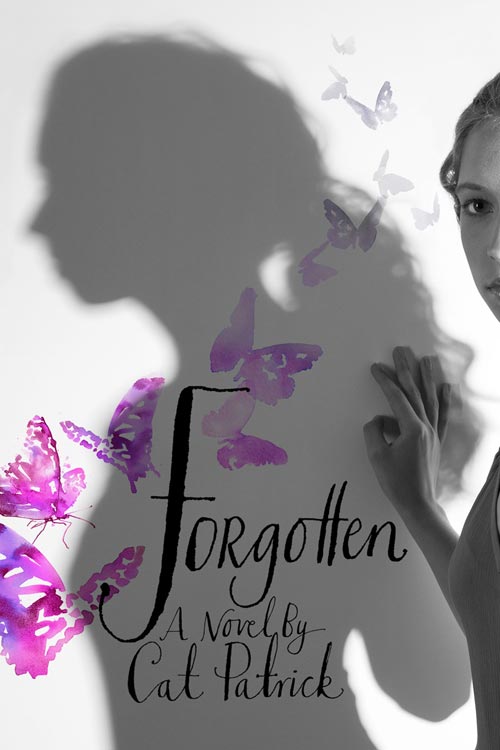 "Or William," I interrupt.
"Oh, yeah, that's good, too. I was William. I was a stonemason."
"Of course you were. And I was a housewife raising our three children: Eliza, Mathilda, and..."
"Rex, after our pet dinosaur."
"REX?" I screech.
If that doesn't convince you to pick up Forgotten, sheesh, I don't know what will!
Thoughts on the Cover:
This is the book of a thousand covers, and I have another to offer you, read on!
I have an ARC and I am so happy about that; the cover is painted with butterflies. Sigh. I really don't like the front of the finished cover. However, I had this pressing desire to lift off the paper cover on my finished copy, and looksie at what I found beneath the crackled, odd bold lettering-
Pretty!
Parental Book Review *spoilers*
Sexual Content:
Mild/Moderate
Talk of sex, this couple is serious, they know it will happen in the future. Also, London does admit she knows the date, due to her strange "memory," but she offers no details.
Jamie, London's best friend, has an affair with a married teacher, but we never learn a single detail. 100% off camera.
Heated kissing.
Language:
Mild
H- 2
B- 2
Sl*t- 2
P*ssed- 1
Violence:
Mild.
A child's kidnapping.
London "remembers" Luke dying.
Neither of these is described in an extremely violent manor.
Other Notables:
None.